Here is a tiny game I did as a 50 hours projet for my faculty. The game is inspired from the Nintendo GameBoy Advance's "Kuru Kuru Kururin". The principle is easy : a pad is rotating, move it to the end of the level in a given time without colliding to much with sprites, walls, etc...
I did everything alone, from coding to graphics and music.
The program was tested under Windows environments with the Java Runtime Environment(JRE) 1.3.1_03
So, you need a Java Runtime Environment(JRE) 1.3.1 or later installed, then, simply download binaries, unzip and double-click on jkururin.jar (Windows) or type java -jar jkururin.jar on console/term.
The game was not tested under Linux/Unix/Mac environments, please send feedbacks.
See README.TXT for more details.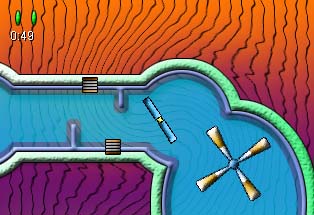 Download Options :
Sun's Java Runtime Environment(JRE) 1.3.1_03 (~5.3Mb)