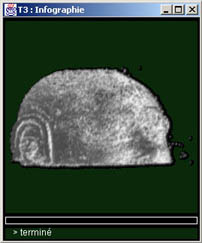 This program is a resonance camera shoot viewer, this means that the it rebuilds a head separated into slices and calculates light according to a source defined arbitrary.

I did this work for the University Institute of Technology - Computer Sciences Department from Strasbourg last year with a friend as our end-year project.

You need the file called 2dseq (2dseq.zip) which contains slices in raw format to be put in the same directory as the java class files.




See headviewer.txt in the ZIP file for more information, help, etc...

Click on the image to download the viewer.