Back
Due to massive spamming, comment submission has been disabled for now... However, you can leave me a message here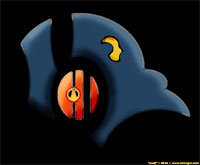 Systems are based on seeds which tend to grow in order to get more complex over the time.

This abstract painting was quickly done with Photoshop to illusrtate a broken seed wanting to grow but being blocked by the universe.

The persisting fight between complexity and low entropy.
Moi ça me fait penser à la tête du ptit Titeuf... Dis moi, tu étais inspiré ce jour là...